Remember Pat's adventures with sleeping bags? Comfort was not a primary attribute. The ones he got from Grogan's War Surplus were filled with chicken feathers (and maybe some chickens still attached). They weighed as much as a rolled-up mattress, and if not filled with chicken feathers, they were filled with sawdust, horsehair and No. 6 birdshot. Thankfully more recent ones were much lighter, filled with the down of unborn geese.
He would definitely approve of the Selk' Bag, a sleeping bag with arms and legs, ideally suited for Sasquatch hunting, sleeping out in the backyard, and any time you need maximum mobility at a short notice. And they're stylish to boot!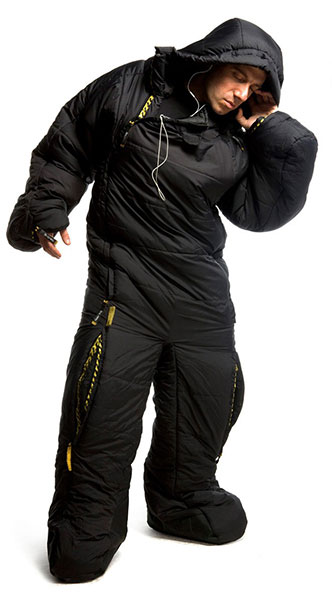 *This post has been edited. The company name and product details have been updated. I have no connection with the company and have received no remuneration from them.